rOVIng™
UI-Driven remote access client
Our thin client connects remotely to the primary Axess point and presents the aggregated data in a visual interface to the user, while simultaneously allowing full or limited operator control.

Quick Resources
rOVIng™ QuickStart Guide
A quick start guide for Statmon Technologies' "thin client" remote monitoring solution
Contact Sales:
* Required Field
Related Products
rOVIng™
Remote Monitor. Remote Control.
rOVIng™ Client Software was designed with operators in mind. With a customizable graphical user interface, rOVIng™ allows you to monitor and control an unlimited number of sites by connecting to a primary machine running Axess™ or Axess NOC™.
Remote Access
Using rOVIng™, operators can connect remotely to the primary monitor point and monitor both local parameters and the parameters of all connected sites and exhibit control over the entire infrastructure as well. Broadcast remote control has never been more powerful or convenient!
Create Unique Graphical Interfaces
Easily customize the graphic interface to display data in a format that best fits your workflow and allows your operators, technical, and operations personnel to be presented with the data and control they require in a manner that allows them to work at the highest efficiency level possible.
OVI Sample - Facilities Management: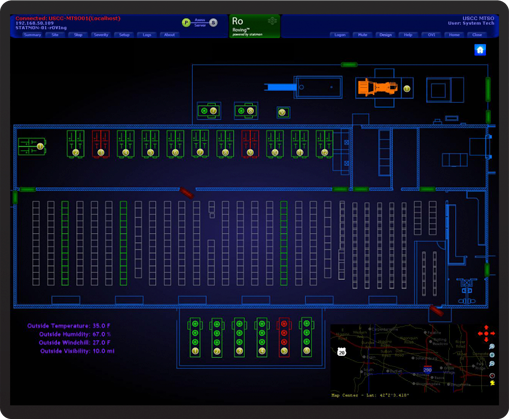 Mobile Acess
With the ability to port all data and interfaces directly to virtually any 'smart' mobile device whether you are in Master Control, Operations Center, or anywhere else you always have your operation in hand!
Additional Features and Information
OVI Objects
Analog/Digital Graph Meters
Status Buttons
Control Buttons
Dynamic Pictures
Video Streaming
Adobe® Flash® Objects
Radar Maps
Acknowledge Bars
Drill-down Buttons
Information Channels